<!++++++++++> <!+++++++++++++++++++++++++ Body text begins here +++++++++++++++++++++++++++++++++>
<!++++++++++++++++++ Text starts here +++++++++++++++++++++++++>


MECHANICAL TV, LED DRIVER SCHEMATIC

<!++++++ Photo +++++++>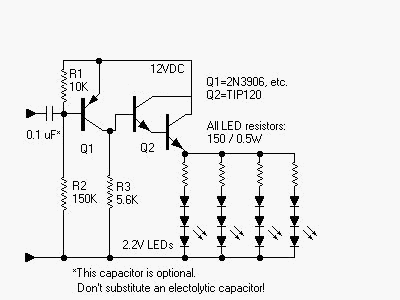 <!++++>
Above is the schematic diagram. If your CD player has an isolated output, the input capacitor may not be necessary.

PARTS
with Radio Shack part numbers
♦ CAUTION. Unless you're an experienced designer, make no substitutes for the parts below. Substitute parts cause malfunctions and damage. In transistor circuits, resistors affect both the circuit operating point and circuit gain. Transistors and Darlingtons aren't commodity components. Each type is different. Variation within a type is common. Take heed of specifications, tolerances and datasheets.
C1 = 0.1 uF, 50 V, metal film or ceramic capacitor (not electrolytic), 272-135
R1 = 10K, 1/4 W, resistor, 271-1335
R2 = 150K, 1/4 W, resistor, p/o 271-312
R3 = 5.6K, 1/4 W, resistor, p/o 271-312
Q1 = 2N3906, MPS2907 or equivalent, PNP transistor, 276-2023
Q2 = TIP120, NPN Darlington compound, 276-2068
Perfboard, bus wire, hookup wire, 12-volt, 1-amp power supply


Make three, identical LED strings (4-LEDs per string) from these parts...
D1-12= Orange LED, 2.2V @ 20 mA with 50 mA peak; 500mCd, minimum. (No direct Radio Shack equivalent.) If you have a full wallet, 276-306 might work. It's orange, and pricey.)
R4-6 = 150 ohm, 1/2 W, resistor, 271-1109
Go to Page: 1 2 3 4 Next
---
---
<!++++++++++++++++ Start: "HOME" Push Button Form +++++++++++++++++++++++++>

<!++++++++++++++++ End: "HOME" Push Button Form +++++++++++++++++++++++++++>